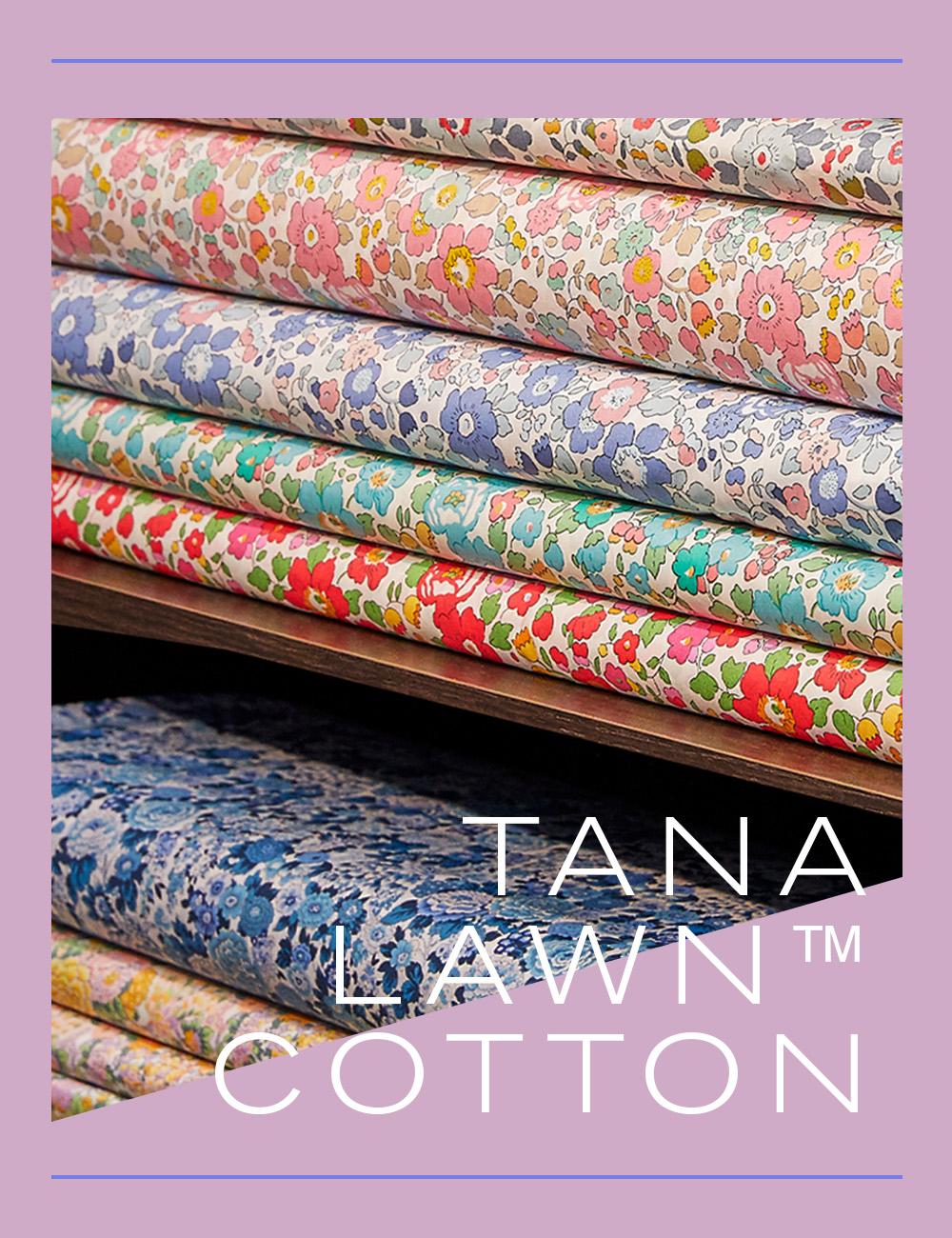 EVERYTHING TO KNOW ABOUT TANA LAWN™ COTTON
You asked, we answered – read our community's most frequently-pondered questions about Liberty's iconic signature fabric
By: Team Liberty
Tana is a fabric built by obsession – a living thing that has grown and evolved with each new technological development and artistic movement across the last century, in a bespoke process fine-tuned by each generation of Liberty experts. Rigorously quality controlled at every stage, the result is a famous masterpiece of fabric technology: fine, cool, comfortable and durable, with a brilliant reproduction of the design studio's lustrous prints. Read on to discover the secrets of Liberty's much-loved cotton hero.

Read More: Silk Crepe De Chine: Frequently Asked Questions
What is the history of Tana Lawn cotton?
Since the late 1890s Liberty has been experimenting with cotton lawn, a smooth plain weave prized for its ultra-soft and durable qualities. In the early 1930s, Liberty's then-Cotton Buyer William Hayes Dorell helped to establish a new Liberty signature, Tana Lawn cotton – and a brand legend was born. The ground-breaking product was named after Lake Tana in Ethiopia, where its unique long-staple cotton fibres originated. Back in the UK the silk-like threads were spun into lustrous form, printed with colourful ink, and turned into a material that would change the textile industry forever.
Is Liberty Fabrics the same as Liberty of London?
Ever since the Liberty store's founding in 1875, fabrics have laid at the heart of its unique offering. When the doors first opened, Liberty sold fine printed fabrics and silk textiles imported from Asia and the Middle East – prized for their delicate colouration and ultra-fine construction, unlike anything else available in the UK at the time. Shortly Arthur Lasenby Liberty began to experiment with dying and printing textiles in England, and eventually purchased the Merton Print Works in 1904 to develop Liberty's own printed art fabrics – the beginning of the Liberty Fabrics brand as we know it.

Read More: In the Heart of London: Meet the Libery Design Studio

Having continuously worked with the most important textile designers and studios of every decade, Liberty Fabrics established its own iconic in-house design studio in the early 1950s, with artists dedicated to drawing and painting prints for each seasonal collection. Today Liberty Fabrics designers work from a studio high up in the rafters, attached to the iconic flagship store by a wooden bridge. They create hundreds of new Liberty prints every year, which are then catalogued and added to the brand's vast 50,000-strong print archive – a priceless design resource protected and maintained by the in-house archivists. These designs are printed on a variety of textile bases, with Tana remaining the brand's most beloved and bestselling signature.

Read More: Sewing Questions and Answers with the Liberty Fabrics Experts
Where is Liberty Tana Lawn made?
Today, every bolt of Tana is the product of a bespoke production process: designed by the in-house studio artists, then printed at Liberty's own Italian mill, close to Lake Como. Skilled technicians oversee the production of many hundreds of different designs, using a combination of traditional screen printing and cutting-edge digital printing techniques. The cotton fibre used in Tana is grown in India, Egypt and US.

Read More: Lasenby Cotton: Frequently Asked Questions
What thread count is Tana Lawn?
Tana is made from specially selected ultra-fine long staple cotton, woven from 70 and 100 ply yarns and subjected to a lengthy series of preparations to ensure its distinctive qualities of handle, lustre and stability. It has a thread count of 240.
Is there an Organic Tana Lawn cotton?
Yes – Liberty Fabrics offers a GOTS-certified Organic Tana Lawn cotton version. For Organic Tana, the process is verified and certified at every stage of the supply chain to meet with GOTS (Global Organic Textile Standard) requirements – from growing and spinning, to bleaching, mercerising and printing, and all the way to final finishing and packaging.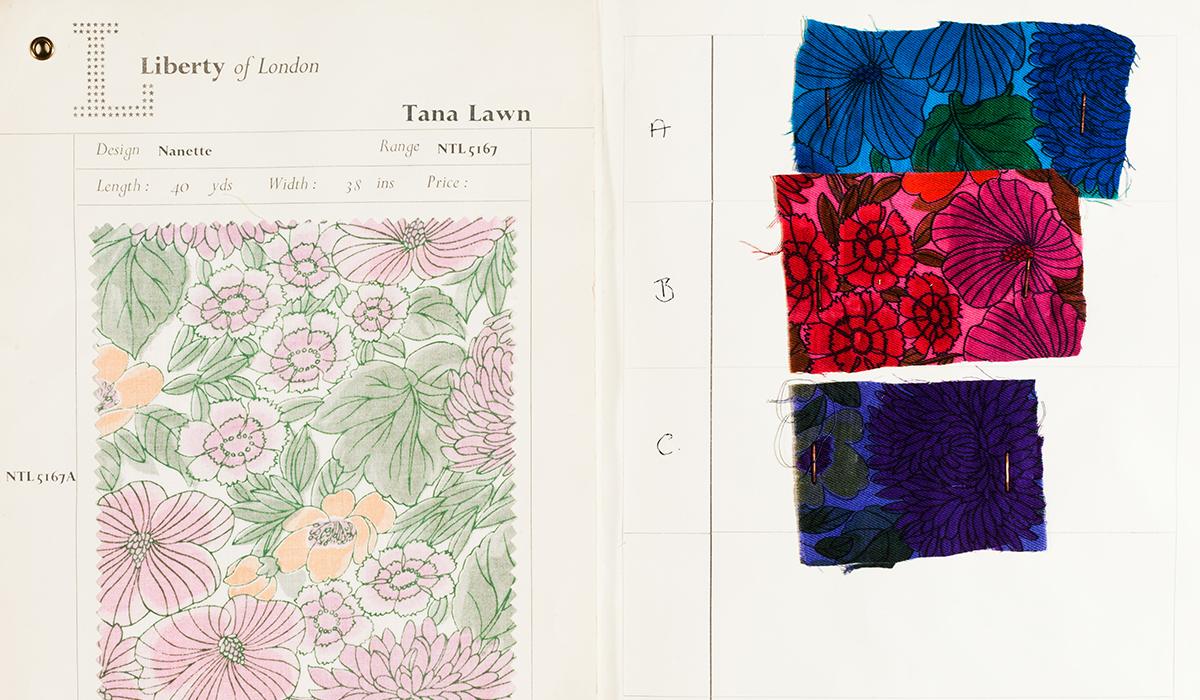 What can Tana Lawn cotton be used for?
Loved by Liberty Fabrics fans for generations, Tana has always captured the imagination of creatives. It has been endlessly reinterpreted by globally renowned luxury design houses and at-home crafters alike, with the chameleonic ability to appear classic or eccentric, nostalgic or cutting-edge by turns.

One of the most versatile fabric bases on the market, Tana is silk-like to the touch and lustrously coloured, while also being ultra-comfortable and machine washable with a breathable construction. Use it to create homewares or accessories, statement fashion pieces or quilted artworks– the possibilities are as wild as your imagination.